Las Reinas de Cumbia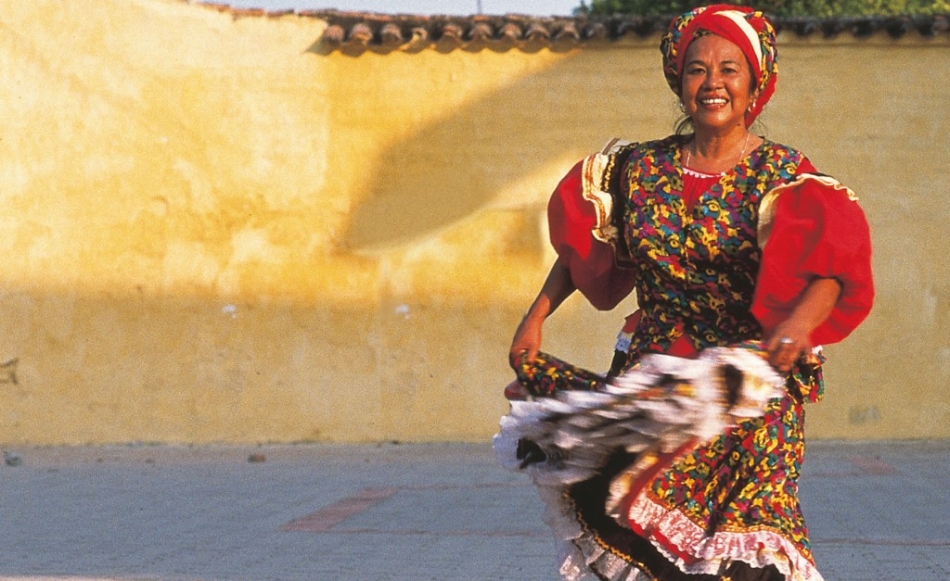 A short history of Latinas in Cumbia.
Cumbia always had a way of magically transporting me to the core of the motherland; the heartening pueblitos (small towns) and the resilient "Soy Colombiano" spirit I inevitably hold. Norteña musician Celso Piña once said, "Cumbia is the nostalgia that we carry in our blood, it's our emotions, feelings, encounters, and disappointments."
Cumbia's footprints trace back to the seventeenth century in the Caribbean coast of Colombia, specifically the Magdalena River, accompanied by African slaves and Indigenous laborers. Cumbia was born in dark, discreet, candle-lit rooms where slaves would hold dance based rituals brought over from Guinea in West Africa. A couple would set out in the middle of the room, the man trying his best to get the woman's attention while she pretends to be disinterested. The rest of the group would dance around them, propelled by singing and percussion, which would consist of African-style drums, maracas and homemade shakers we still to use today.

The elites frowned upon the working-class music until the 1940s, when respected clarinetist Lucho Bermúdez introduced big style-band cumbia to upscale venues. After succeeding Colombia's interior, Bermúdez and his orchestra were invited across the Americas to share the addictive 2/4 beat.
Cumbia migrated as far South as Argentina and Chile, and as far North as Mexico and the United States. Cumbia resonated with primarily working-class and mestizo communities – then, via Mexican immigrants, to the United States as well.
The well-known faces of cumbia are Rodolfo y su Tipica R.A. 7, Gabriel Romero, Adolfo Echeverria, Pastor Lopez, and La Sonora Dinamita. La Sonora Dinamita is one of the first cumbia groups to reach international success and helped popularize the genre throughout Latin America. They always featured a strong female vocalist including Margarita Vargas (la Diosa de La Cumbia), Mélida Yará (La India Meliyará), Vilma Díaz (La Diva de La Cumbia) and other female vocalists. "Mi Cucu" is one of their classic recordings featuring La India Meliyará firmly singing back, "No te metas con mi cucu!" (Don't mess with my cucu).
The music of Colombia was reborn into a psychedelic rock with Andean melodies in Lima, Peru. Peruvian cumbia better known as Chicha (named after the corn-based drink) became popular within mostly the indigenous new migrant population in the 1960s. Twenty-five years later, chicha grew widespread in Peru thanks to the band Los Destellos and later Los Mirlos, Juaneco y Su Combo and Cuarteto Continental. Female Peruvian cumbia and techno-cumbia groups formed in the early 2000s, such as Alma Bella, Agua Bella, and Marisela Puicón featured in the "Soy La Cumbia" playlist.
During the social decline in Argentina in the 1990s, cumbia was first found among the lower-class. They appropriated it as cumbia villera to musically express their everyday struggles in slums such as poverty, drugs, and prostitution. The subgenre is the rebellious child of Colombian and Peruvian cumbia – sounds of reggae, ska, Argentine folklore, and electronic music. Ultimately creating new fusions like hip hop, punk, reggaeton and protest music. For example, Kumbia Queers is an unapologetic cumbia punkera/x band from Buenos Aires proving that cumbia is more punk than punk itself. On the other side of the spectrum, Gilda, named after a femme-fatale character from an American noir film, sang love songs that can cure any heartbreak like her most well-known song, "Fuiste"."
Cumbia in Central America has been around since the early 1940s. My fellow Salvadoreño friend introduced me to the female-fronted band Salsa Clave, formed in the early 2000s playing cumbia incorporated with indigenous instruments like the pan flute and drums, as well as salsa music. In addition, tubular bells are a commonly used instrument in El Salvador, particularly religious music. Other well-known Salvadoran cumbia groups are Los Hermanos Flores, Grupo Algo and La Raza band.
Guatemala's cumbia sounds fluorescent in behalf of Afro-Caribbean slaves who have recreated marimba, a percussion instrument in the sixteenth and seventeenth centuries. Marimba is proclaimed the national instrument of Guatemala and extends its use to much of Central America; mainly in El Salvador, Honduras, and Nicaragua. An example of Guatemala's fusion of cumbia and hip-hop is Rebeca Lane, a feminist singer and anarchist rapper from Guatemala City expressing the struggles against oppression and machismo in her lyrics.
To discuss the diverse cumbia movements in Mexico is a whole book itself. Cumbia was introduced to Mexico in the 1940s when Colombian singer Luis Carlos Meyer worked with Mexican orchestra director Rafael de Paz and recorded hits like "Mi Gallo Tuerto", "Micaela" and "Nochebuena." Within the US-Mexico norteño borderlands, cumbia developed into cumbia-rap, techno-cumbia, cumbia rock, cumbia tejana and much more in the 1960s. The most beloved cumbia artists from the 1980s are Selena Quintanilla (from Texas) and Celso Piña (from Monterrey, Nuevo León). Selena was an international icon and an important role model for marginalized Chicanas.
Totó la Momposina is the mother of Colombia's traditional music and the daughter of her ancestors from the village of Talaigua, at the heart of an island in the Magdalena river, called Mompos (hence 'la Momposina'). Totó devotes her entire life to representing and embracing Colombia's tri-ethnic cultures of African, Indigenous and Spanish to create a unique musical tradition. Totó's "Yo Me Llamo Cumbia" (My Name is Cumbia) pays homage to the traditional history of cumbia and embodying herself as being La Cumbia.
Cumbia is a borderless genre that has left historical imprints in regions such as Argentina, Bolivia, Central America, Chile, Panamá, Perú, Paraguay, Costa Rica, Venezuela, Mexico and the United States. The once Afro-Indigenous music has transformed into multiple fusions such as punk, techno, and hip-hop; along with Latin American countries indigenizing their own cumbia. "Soy La Cumbia" playlist features notable female musicians across the Americas, breaking boundaries and using cumbia as a solidarity with their roots.
Did I miss any Cumbieras? Comment below and I'll add it to the playlist!